ACC Companies offers comprehensive landscape construction services for parks, streetscapes, sports fields, and golf courses. We also perform environmental restoration of challenging sites for both public and private landowners.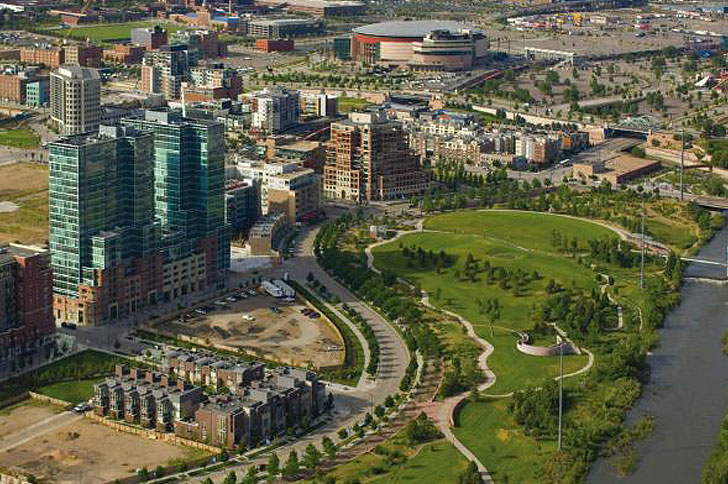 Parks
ACC constructs sustainable, compelling outdoor spaces ranging from neighborhood streetscapes to large-scale regional parks and campus environments. We serve as a single point of execution for even the most complex projects, with expertise covering everything from the planting and irrigating of plant life to elements such as earthwork, drainage and slope retention, stream and streambank restoration and stabilization, concrete structures, playground equipment, lighting, and site furnishings.
Sports Fields
We construct cutting-edge playing surfaces for every level of amateur and professional sports organization. Our award-winning projects combine soil-based, sand-based, or synthetic-infill construction methods with complex irrigation systems, underground heating, and advanced passive drainage systems to maximize field performance in any weather. We also offer expertise in the latest track and tennis-court construction materials, including black latex, full-depth red polyurethane, and Mondo surfacing.
Golf Courses
ACC has constructed or renovated more than 100 golf courses across the U.S., many of which have earned top category rankings from local and national publications. By utilizing our extensive in-house capabilities and experience to offer a turnkey approach that covers every aspect of course construction, we can deliver a world-class product in less time, while also minimizing costly change orders.
Environmental Restoration
The ACC environmental restoration team uses advanced installation techniques, smart material applications, and custom-designed equipment to handle reclamation, erosion control, and wetlands projects for public and private clients. Our extensively trained crews regularly coordinate with stakeholders that include the EPA, the Army Corp of Engineers, state health departments, and others with an interest in water quality and the impact of construction activities.